TV
Andrew Koji will play the lead role of Ah Sahm in new 10 episode HBO drama Warrior Written by Jonathan Tropper, based on the writings of Bruce Lee. Set in San Francisco's Chinatown after the Civil War the drama focuses on Ah Sahm who arrives in America from China and finds himself caught up in the bloody Chinatown Tong wars. Aidan Kelly also guests in the role of Rooney in the first episode of Warrior with filming starting in Cape Town this month. Meanwhile Kate Maravan films Netflix's Safe an eight-part drama series from bestselling writer Harlan Coben, Thomas Coombes shoots Stan Lee's Lucky Man for Sky, Kate Fahy joins the cast of Witless for its third series, Molly Logan, shoots Irish comedy Dave Allen At Peace, Patrick Brennan guests in Shakespeare and Hathaway for the BBC, Aleks Mikic films In The Clouds for Little Island Productions, Jordan Mifsúd shoots HULU's 40 North in Morocco, Sevan Stephan guests in Abi Morgan drama The Split for Sister Pictures and Joe Sims plays regular Dean in Zodiak Media's Joe All Alone.
FILM
Paddington 2 hits our screens next month with Nicholas Lumley playing Old Timer Jack opposite our favourite Peruvian bear. Meanwhile, Gary Oliver will film Mary Queen of Scotts directed byJosie Rourke for Working Title.
CURRENTLY AIRING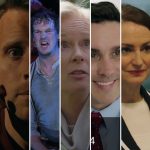 Catch Pooky Quesnel playing regular Fiona Craig in W1A and Louise in The A Word series 2; Geraldine Alexander in BBC 1's The Child In Time, Melanie Kilburn as Eastenders' resident Vicar Irene Mills, David Seadon Young performing Oklahoma as part of this year's BBC Proms, Emma Handy in ITV's Doc Martin series 8, Joseph May playing Canadian President Justin Trudeau in The Windsors on Channel 4, Chris Harper's character Nathan Curtis facing trial in ITV's Coronation Street and Hywel Morgan appearing in Channel 4's 'The End Of The F***ing World' airing on October 24th.
To view some of these clips click here