Max Fowler will head to the States in September to begin shooting POWERS; the much anticipated superhero, crime-noir series produced by Sony Picture's TV. Max will play disaffected teen Krispin Stockley in the series based on the graphic novel by Brian Michael Bendis and Michael Avon Oeming. The first two episodes will be directed by Breaking Bad's David Slade. Read more
Joe May has just completed filming Comedy Central's pilot 'I Live with Models' written by triple BAFTA and EMMY winning writers Jon Foster and James Lamont. Joe now goes on to film season 4 of the ever popular Episodes with Matt Le Blanc.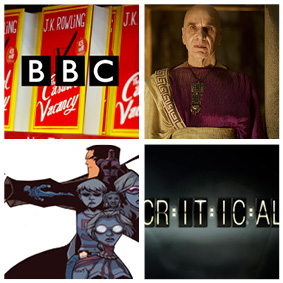 Closer to home, Kent Riley plays Cilla Black's brother-in-law Kenny in the ITV three part drama, CILLA. Written by Oscar nominated writer Jeff Pope and starring Sheridan Smith, the drama follows her rocky rise to fame in 1960's Liverpool. Derek Hutchinson has been cast in the BBC/HBO adaptation of JK Rowling's The Casual Vacancy directed by Jonny Campbell whilst Cosima Shaw plays Nurse Jenny Kirk in Sky One's ground-breaking real-time medical drama Critical, Jed Mercurio's 13 part series which focuses on the most life-threatening hour of a patient's treatment. Ken Bones, meanwhile, is currently reprising his role as Melas, high priest and protector of Juliet Stevenson's Oracle in the second series of Atlantis which also sees Tom Coombes join the cast as Creatias.