Openings:
The critics have loved Shakespeare in Love, the stage version of the film which has opened in the West End. Charles Spencer (Telegraph) praised Ferdy Roberts' "cracking performance as the ruthless moneyman Fennyman" whilst Billington ( Guardian), Hitchins (Evening Standard), and Neil (Express) all single out Ferdy's performance in the brilliant ensemble that director Declan Donnellan has brought together. Tom Eames (Digital Spy) admits that amongst an excellent cast "a personal favourite is Ferdy Roberts as the money-hungry Fennyman, who finds himself taken in by the theatre bug after witnessing Shakespeare's masterpiece". Shakespeare in Love is now booking at The Noel Coward theatre.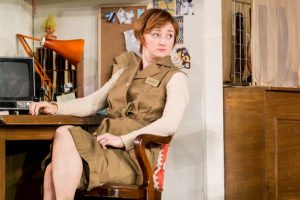 Jodie McNee has opened in Hobson's Choice at Regent's Park to some stunning notices. Michael Billington writes in The Guardian "Jodie McNee is excellent as Maggie, combining grit and determination with a hint of vulnerability". Henry Hitchins (Evening Standard) agrees "Jodie McNee is tremendous as Maggie, capturing her spiky assertiveness and also the delicate humanity she carefully masks". For Charles Spencer (Telegraph) "McNee, her nose as sharp as a pencil and with a manner that's brusque to the point of outright rudeness, marvellously captures the character's unstoppable determination." "The show belongs to McNee" according to The Independent whilst Ian Shuttleworth (Financial Times) praises the modern reworking of Brighouse's classic. "Herein lies the principal stroke of genius: that Nadia Fall and actor Jodie McNee have unobtrusively turned this from the story of Hobson..into a tale where the viewpoint character is Maggie. To pull this off without short-changing the comedy is a work of mastery."
Hobson's Choice continues at Regent's Park until July 12.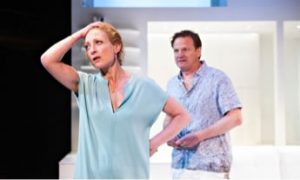 Polly Steinham's Hotel has opened in The National's Shed with Hermione Gulliford in the role of Vivienne. "Astonishingly raw, powerful and terrifying" says Charles Spencer (Telegraph) with "exceptional performances, Hermione Gulliford captures the simmering fury of the betrayed wife". Time Out is in agreement "Gulliford is particularly good as a woman suspended somewhere between fury, exasperation and sympathy for her husband." The Arts Desk too praises Steinham's "brilliant new play.. sharply directed by Aberg and boasting an excellent cast with Gulliford's "icily sarcastic Vivienne" singled out.
Hotel plays in The NATIONAL Theatre's temporary space until Aug 2.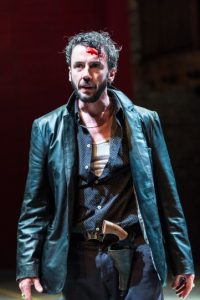 In Stratford, meanwhile, Jay Simpson's performance as Black Will in The Arden of Faversham has impressed the critics. For Charles Spencer (The Telegraph), Jay Simpson and his partner provide "the most engaging performances…as Black Will and Shakebag, two hired hit-men of truly spectacular incompetence." Letts (The Mail) praises Simpson's " dumbo slapstick villain" and Billington (Guardian) too enjoys his turn as a "bungling assassin". BBC Radio 4's Saturday Review enjoyed the fact that Black Will looked as if he had "tumbled out of a Cohen Brother's movie" in this his debut RSC production.
The Arden of Faversham plays as part of The RSC's Roaring Girl's Season until October 2.
Graduates:
The Almedia's critically acclaimed King Charles III has confirmed its West End transfer with Tafline Steen (Royal Scottish Conservatoire) returning in the role of Jess. Performances start at the Wyndham's Theatre from September 2nd. Scott Karim (RADA) is in Great Britain, Richard Bean's new satire about the phone hacking scandal, playing at The National until August 23rd. Royal Welsh College graduate Chris Gordon will play Romeo in Rachel O'Riordan's Romeo and Juliet, her inaugural show as artistic director of Sherman Cymru. Molly Logan (RADA) will play Puck in The Globe's touring production of A Midsummer Night's Dream which after, performances in London will visit China, Singapore and Russia. Jake Mitchell (also RADA)and Joel Gillman (Drama Centre) are working on Sarah Kane's 4.48 Psychosis with director Laura Bowler whilst Jude Monk McGowan (also Drama Centre) will be playing Freddie in The Royal Duchess Superstore, a new play written by Jon O'Neill and directed by Kareena Johnson.