Joe Sims joins the cast of The Lost Honour of Christopher Jeffries written by Peter Morgan and to be directed by Roger Michell. This 2 parter for ITV films on location in Bristol and recounts the tragic death of Joanna Yeates and the press harassment of the landlord wrongly assumed guilty of her murder. Robert Hands begins filming on Jonathan Strange and Mr Norrell an epic new 7 part historical drama for the BBC directed by Toby Haynes and shooting from November. Jay Simpson and Hermione Gulliford shoot The Game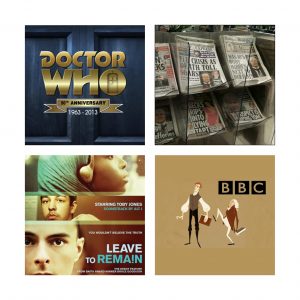 by Toby Whithouse, BBC Wales' new espionage thriller directed by Daniel O'Hara and Alex Blake films a guest role on Season 3 of Borgia with Christoph Schrewe directing. Sarah Winman films Undeniable a 2 part drama written by Chris Lang and directed by John Strickland whilst Richard Teverson films Jamica Inn a new adaptation of the Daphne Du Maurier novel with Philippa Lowthorpe directing.
On screen, November sees the premiere of the much anticipated Doctor Who 50th featuring Ken Bones which will showing concurrently in 3D across UK cinemas Sat 23rd. Also coming to cinema screens soon is Leave To Remain, a moving portrait of asylum seekers which premiered at The London Film Festival last month and featuring Farshid Rokey as 5 Names. Natasha Gordon also plays an asylum seeker in her debut feature Dough. Shooting in London and Sofia, she takes the role of Safa, a refugee from Darfur opposite Jonathan Pryce.