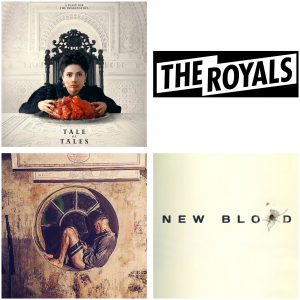 Matteo Garrone's beautiful fantasy horror film Tale of Tales featuring Hayley Carmichael as Dora gets its UK cinema release June 17th.
Also, on screen catch series two of Sony's noir-superhero drama Powers starring Max Fowler, Gary Oliver playing the guest lead of John Gulliver in New Blood written by Anthony Horowitz for the BBC and Derek Hutchinson who appears in Versailles on BBC2. Pooky Quesnel, meanwhile, plays Agnes in Living & the Dead, series starts 28 June on BBC 1 and Kent Riley is series regular Barry in ITV's Brief Encounters coming soon.
In other production news, Rocky Marshall will return as Agent James Hill in Series 3 of The Royals, Emma Handy plays Mrs Hallows in The Worst Witch and Robert Hands shoots crime thriller Wagstaff adapted from the novels by Adam Creed and directed by Colin Teague for ITV Encore. For the BBC Richard Teverson films Call The Midwife and the highly anticipated Taboo produced by Ridley Scott and Tom Hardy, Vincenzo Nicoli, Emma Handy and Kate Maravan guest in BBC's The Coroner alongside regular Oliver Gomm and Nitin Kundra shoots the 3rd series of Count Arthur Strong written and directed by Graham Linehan. Joe Sims and Sara Powell, meanwhile, take on guest leads in the ever popular Midsomer Murders.