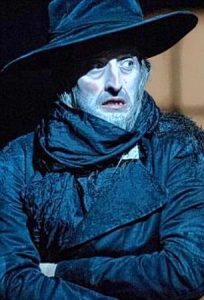 Tom Edden has opened as Fagin in Daniel Evans' Sheffield Crucible revival of Oliver. In the Daily Telegraph, Jane Shilling awards the production 5 stars commending Tom and the cast for their "intelligent" performances in a production that finds  "humanity..and is bracingly free of sentimentality." Lyn Gardener agrees in The Guardian admiring the darkness that lurks beneath the cheer in this production whilst praising Tom's "impeccable comic timing". The Daily Mail's Patrick Marmion raves:
Anyone who saw the original One Man Two Guvnors will recall Edden as the ancient serving man who toppled backwards downstairs. Now he takes to Dickens's master pickpocket with lip-licking glee and proves he's not just a one-trick waiter. It would normally have been enough that Bart's 54-year-old musical has some of the most toe-tapping numbers ever written. But in Edden they have added comic charisma. Edden's Fagin is an extraordinary vocal mix of Strictly Come Dancing's Len Goodman and England's Roy Hodgson…Bill Sikes describes Fagin as 'an avaricious skeleton'.But Edden is much more — a delightfully demented vulture with great hooded eyes.
Oliver continues at the Sheffield Crucible until 25 Jan 2014.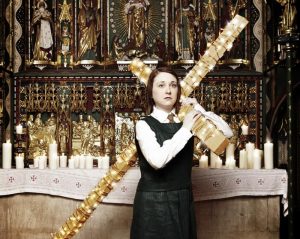 Once A Catholic has opened at The Tricycle with Molly Logan receiving brilliant notices for her touching central performance. Charles Spencer "laughed like a drain" whilst observing that, "the comedy might seem heartless were it not for the wonderful performance of Molly Logan". Paul Taylor (Independent) concurs that "Molly Logan is excellent as the grave, victimised Mary Mooney" whilst Michael Billington (Guardian) commends the "truthful observation" and "specific gravity" she brings to her role as the hapless heroine.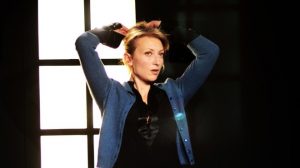 Over at The Print Room, "West London's uber cool theatre" (Time Out), Geraldine Alexander has premiered Amygdala, her writing and directorial debut, in which Hermione Gulliford takes the leading role of Catherine. Time Out's critic writes: "Amygdala contains some forceful, bone-shaking writing. Alexander (who also directs) keeps her powder dry until the final moments, and when she finally unleashes hell, it packs quite a wallop. Gulliford excels in those tense scenes." Lyn Gardener's review in The Guardian praises the "quality" and "detail" of Gulliford's performance and the "needle sharp clarity" of Alexander's writing which kept her gripped. Armygdala plays at The Print Room until the 14th December.