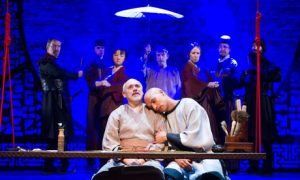 The Orphan of Zhao has opened at the RSC to high praise. Graham Turner's heartfelt performance as the country doctor has been singled out by many critics in Greg Doran's first production as new Artistic Director. The piece is variously described as an "extraordinary theatrical event" (Guardian) "an emotionally piercing marvel" (The Times) and a "gripping production… of an unseen classic" (The Telegraph).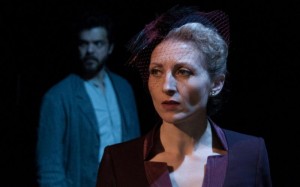 Also opening last week at The Print Room was Lot and His God , the UK premiere of Howard Barker's take on the Genesis story in which Hermione Gulliford takes the role of Lot's wife.  The Telegraph writes "Gulliford performs the part mesmerisingly. In a dusty, dirty, dark bar in Sodom she meets the angel Drogheda, who is there to convince her and her husband to flee their home. Gulliford rolls the language around her mouth, easily and playfully and the result lays bare the many layers of meaning and intention in Barker's script – no easy feat."
Over at The National Theatre, Alan Bennett's People featuring Jess Murphy was another opening last week to 4 and 5 star reviews. It now plays in rep in The Lyttelton Theatre alongside Scenes From An Execution (Robert Hands, Jay Simpson) which opened to excellent reviews in October. Previewing now and opening next week is The Magistrate which sees Roger Sloman return to The National in Pinero's classic. And Derek Hutchinson returns too in another Alan Bennett play Cocktail Sticks which Nick Hytner directs as a companion piece to People.
Looking forward, Lynn Gardner (Guardian) tips Ignorance at Hampstead Downstairs a new play from Steve Waters as one to watch. Daniel Rabin is cast as part of a small-town postwar US community struggling to accept a foreigner in their midst.